Dr. Chad Miller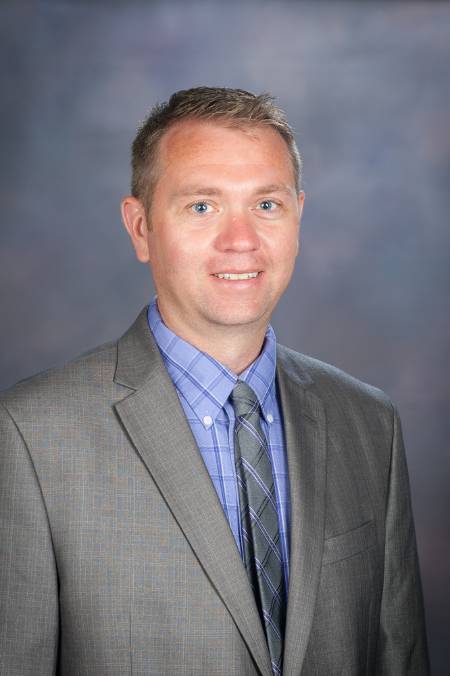 Associate Professor
Landscape Horticulture
he/him/his
Kansas State University
2607 Throckmorton PSC
1712 Claflin Road
Manhattan, KS 66506
Ph: +1-785-532-1416
Fx: +1-785-532-6949
Areas of Specialization
Floriculture
Geophytes
Ornamentals
Plant Physiology
Biography & Education
Chad grew up in a small town in northwest Wisconsin, spending a lot of time fishing, hunting and gardening—for at least a few months of the year. In high school and most of college, Chad worked painting ornamental concrete lawn ornaments. His interest for horticulture began when he was about twelve years old, when a neighbor lady gave him some flower bulbs—namely dahlias, gladiolus and cannas. From that summer on, his interest with flower bulbs and ornamental plants grew.
He enrolled at the University of Wisconsin-River Falls (UWRF) in horticulture, and had a great mentor and advisor, Dr. Terry Ferriss. Miller did a couple of internships, one in Californiain plant breeding and one in the Netherlands for greenhouse cut flower production—both of which had a significant impact on his education. After UWRF, Miller enrolled at Cornell University for a M.S. and Ph.D., working with Drs. Bridgen and Miller, respectively.
After completing the Masters degree, Chad received the Dreerfellowship and spent a year conducting floriculture and breeding research in the Netherlands. Miller has always enjoyed the academic setting and has wanted to teach horticulture. It was his aspiration to be able to help others learn not only about plants but help others learn about themselves and the world around them. Miller is excited about the ornamentals position at K-State, as there is a lot of opportunity to pursue two passions—horticulture and teaching, in conjunction with colleagues and students who have similar interests.
Outside of work, Chad loves to travel and experience new cultures. He would really like to visit the African continent and go on safari, to see both the wildlife and flora. Cooking is another interest and Chad enjoys serving up a tasty dish now and then. Other activities include gardening, birding, photography, tennis, racquetball, fishing, and spending time with friends and family. And finally, his favorite animal is…the bison.
Education
Ph.D. Horticulture, Cornell University (2010)
M.S. Horticulture, Cornell University (2005)
B.S. Horticulture, University of Wisconsin - River Falls (2002)
Publications
C.T. Miller. 2019. Plant Madness: a classroom game using bracketology® for horticulture plant identification courses. HortTechnology. (accepted; in press) KAES#: 19-153-J (1; 100%)
C.T. Miller, K. Snyder, and M.P. Bridgen. The 2017 National Floriculture Form: Engaging Young People in the Industry. HortTechnology. 27(6):754-756. KAES#: 18-158-J
Wilson, M.S. and C.T. Miller. 2017. Evaluating student use and perceptions of virtual plant walk maps as a study tool in plant identification courses. HortTechnology. 27(1): 121-128. KAES#: 17-098-J
Williams, K.A., C.T. Miller and W. Upham. 2016. Relationship between High School Student Participation in State-level FFA Career Development Events and Matriculation at the Host University: A Case Study in Horticulture at Kansas State University. HortTechnology. 26(6): 862-868. KAES#: 15-262-J
Wilson, M.S. and C.T. Miller. 2015. Using Google Maps web-application to create virtual plant maps for use as an online study tool in plant identification courses. HortTechnology. 25:253-256. KAES#: 15-227-J.
Research
Dr. Miller's areas of horticulture interest include topics related to ornamental crop production—both in the greenhouse and nursery context, geophytes (or bulbs such as tulip, lilies, dahlias and iris) and general ornamental plant physiology. He will be teaching two undergraduate courses; Ornamental Landscape Plants I and II. He also has an interest in developing an undergraduate non-major horticulture course aimed at freshmen and sophomores to increase interest and the relevance of horticulture in daily life.
Dr. Miller will be advises undergraduate students with an interest in general and ornamental horticulture. Miller's research interests include developing and expanding currently cultivated genera for landscape and garden use, such as rhubarb (Rheum). In addition, he has an interest in conducting woody plant breeding research to increase plant diversity through increased genus development and inquiry for the horticulture industry.
Teaching
| | | | |
| --- | --- | --- | --- |
| Course # | Title | Semester | Delivery Method |
| HORT 190 | Preparing for your Horticulture Career | Fall | On Campus |
| HORT 300 | Plants and Society | Fall | On Campus |
| HORT 350 | Plant Propagation | Spring | On Campus |
| HORT 374 | Landscape Plants I | Fall | On Campus |
| HORT 375 | Landscape Plants II | Spring | On Campus |
| HORT 390 | Horticulture Topics | Spring/Fall | On Campus |
| HORT 590 | Horticulture Internship | Spring/Fall | On Campus |
| HORT 595 | Horticulture Study Abroad | Spring/Summer/Fall | On Campus |
Grant Research
Click on the links below to find out some of the grant research work that has been conducted in Dr. Miller's lab.
American Floral Endowment Educational Grant