Dr. Jack Fry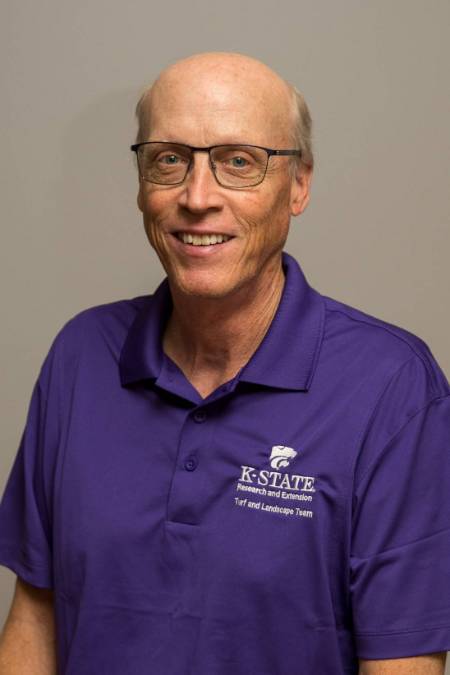 Professor & Commercial Turfgrass Extension Specialist
Turfgrass Science
K-State Research & Extension Center
35230 W 135th Street
Olathe, KS 66061
Areas of Specialization
Golf Course
Sports Turf Operations
Turfgrass Science
Biography & Education
Biography
Dr. Jack Fry was raised in Overland Park, KS where he first gained interest in horticulture by working in the yard alongside his father. During his undergraduate studies at K-State, Fry decided turfgrass science was the option he wanted to pursue. Later on, he chose to further his knowledge in the same area at the graduate level and attended the University of Maryland (M.S.) and Colorado State University (Ph.D.).
Before returning to Kansas State University, Dr. Fry served as an Assistant Professor in the Department of Horticulture at Louisiana State University from 1987-1991. Beginning in 1991, Fry began his very successful career at K-State. His many accomplishments include serving as an advisor for numerous M.S. and Ph.D. candidates, authoring over 130 scientific publications, and co-authoring the textbook Applied Turfgrass Science and Physiology. In addition to his academic achievements, Dr. Fry holds a faculty member position with the Golf Course Superintendent's Association of America (GCSAA), presents a seminar at their annual Golf Industry Show and writes a column for Golf Course Management magazine.
Fry is currently serving a 60% research and 40% extension position (details below).
In his free time, Dr. Fry enjoys cheering on the Wildcats at KSU sporting events, spending time with his children, working in the yard, playing golf, bike riding and fishing.
Education
Ph.D. Turfgrass Management, Colorado State University (1987)
M.S. Agronomy, University of Maryland (1984)
B.S. Horticulture, Kansas State University (1982)
Publications
Fry, J., M. Xiang, S. Keeley, and M. Hong. 2021. Evaluation of turfgrass establishment knowledge gained from an undergraduate horticulture course. NACTA Journal 65:Nov. 2020-Oct. 2021.
Xiang, M., J. Fry, and Y. Wu. 2021. Winter survival of experimental bermudagrasses in the upper transition zone of the U.S. International Turfgrass Research J. DOI: 10.1002/its2.3
Xiang, M., J. Fry, and M. Kennelly. 2020. Establishment and persistence of zoysiagrass-tall fescue mixtures in the transition zone. Crop, Forage, and Turfgrass management: https://doi.org/10.1002/cft2.20011
Xiang, M., J. Fry, and M. Kennelly. 2019. Brown patch occurrence in a zoysiagrass-tall fescue polystand compared to a tall fescue monostand. Crop, Forage, and Turfgrass management 5: 1:-doi:10.2134/cftm2019.04.0031.

Thompson, C., Q. Zhang, M. Kennelly, J. Stier, C. Blume, N. Christians,

J. Fry

, D. Martin, J. Ostrander, K. Rincker, D. Settle, and D. Soldat. 2018. The dollar spot susceptibility of 25 bentgrasses is consistent across five states in the central U.S.A. Crop, Forage, and Turfgrass Management. doi: 10.2134/cftm2018.09.0075

Alderman, E., J. Hoyle, J. Fry, and S. Keeley. 2017. Buffalograss divot recovery as affected by nitrogen source and rate. Crop, Forage, and Turfgrass Management: 3: 2016-06-0044.
Chabon, J., D. Bremer, J. Fry, and C. Lavis. 2017. Effects of soil moisture-based controllers, mowing height, and trinexapac ethyl on tall fescue irrigation amounts and mowing requirements. InternationalTurfgrass Research Journal: 13:1:755-760.
Fry, J., A. Chandra, D. Genovesi, K. Morris, and M. Xiang. 2017. Winter survival of fine-texturedinterspecific Zoysia hybrids in the upper transition zone of the USA. International Turfgrass Research Journal: 13:1: 601-603.
Obasa, K., J. Fry, D. Bremer, and M. Kennelly. 2017. Evaluation of spring and fall fungicide applications for large patch management in zoysiagrass. International Turfgrass Research Journal: 13:1: 191-197.
Thompson, C., M. Kennelly, J. Fry, M. Sousek, and Z. Reicher. 2017. Physiological and pathogenic contributors to the summer decline of Poa trivialis. International Turfgrass Research Journal: 13:1: 566-574.
Braun, R., J. Fry, M. Kennelly, D. Bremer, and J. Griffin. 2016. Colorant application volume and color persistence on a 'Chisholm' zoysiagrass lawn. HortTechnology 26:314-319.
Miller, G., D. Earlywine, R. Braun, J. Fry, and M. Kennelly. 2016. Influence of nitrogen source and application timing on large patch of zoysiagrass. Crop, Forage, and Turfgrass Management doi:10.2134/cftm2015.0189
Thompson, C., J. Fry, R. Braun, and M. Kennelly. 2017. Rough bluegrass incidence in a new tall fescue sward as affected by seeding rate and mowing height. Crop Forage Turfgrass Management doi:10.2134/cftm2016.11.0074.
Thompson, C., Z. Reicher, M. Sousek, J. Fry, and M. Kennelly. 2016. Evaluation of selective herbicide combinations and paclobutrazol for rough bluegrass control Crop Forage Turfgrass Manage doi:10.2134/cftm2015.0123.
Research
Dr. Fry's research is focused on reducing inputs for turfgrass, including water, fertilizer, and pesticides. In this effort, he has focused his research over the past 20 years on zoysiagrass, a turfgrass that requires fewer inputs.
Fry has worked in conjunction with researchers at Texas A&M AgriLife-Dallas to develop two new zoysiagrass cultivars, Chisholm and Innovation. These grasses are drought resistant, cold hardy, and require minimal inputs to maintain quality. They are best suited for use in the transition zone of the United States - the area in the middle of the country where growing good turf is difficult. The United States Golf Association has recently sponsored this research and Purdue University has joined the research group on zoysiagrass cultivar development; new cultivars are soon to be released.
Staff & Students
PhD. Graduate Student
Area of Specialization:
Turfgrass Science
Mark Willmore
Research Assistant
Extension
Dr. Fry works with professional turf managers to solve problems. He also oversees organization of the annual Kansas Turfgrass Conference (held in December) and Kansas Turfgrass Field Day (held in August), and helps with updating extension publications, the K-State Turf and Landscape Blog (https://blogs.k-state.edu/turf/), website (www.ksu.edu/turf), and social media posts (@KSUTURF on Twitter and Facebook).