Dr. Charles Barden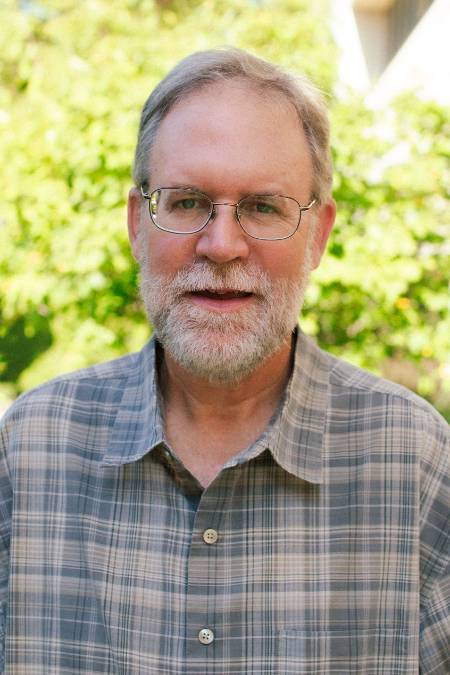 Professor | Director of Geyer Forestry Center
Forestry, Agroforestry & Water Quality
Kansas State University
3036 Throckmorton PSC
1712 Claflin Road
Manhattan, KS 66506
Ph: +1-785-532-1444
Fx: +1-785-532-5780
Biography & Education
Biograpy
Originally from the East Coast, Dr. Charles Barden is a long way from home. But his love of trees and forestry is backed by a lot of history, stemming from his days of working on his grandparents' apple orchard in North Scituate, Rhode Island and cutting firewood to heat his childhood home. Barden began his post-secondary education in Natural Resources, where he learned about forestry and wildlife, in addition to plant, animal and soil sciences. Then he decided pursue Forestry in his graduate studies.
Prior to coming to Kansas State University, Barden's previous positions include Area Extension Specialist with Oklahoma State University from 1989-1994 and also Regional Extension Forester with the US Forest Service/Penn State University from 1994-1998. Then in 1998, Dr. Barden began his tenure in Manhattan, KS, serving the public of Kansas, focusing on two things he loves teaching people about: trees and water quality improvement. His extension duties entail daily calls from local extension agents and individual producers who deal in either native woodlands or black walnut plantations. These producers are usually concentrated in the eastern 1/3 of Kansas, but Dr. Barden also assists western Kansas's residents working on windbreaks and crop field buffers. Barden also provides adult education, guest lectures in a series of K-State classes and conducts applied research in the forestry area.
Dr. Barden stresses that forestry management is quite different than any other field of agriculture since, trees must be 40-80 years old prior to harvest. Additionally, Barden states, "Most people don't think of the trees as a cash crop, but more of something they can plant now and pass onto their children and grandchildren. The value of a tree for wildlife, streambank stabilization, shade or simply aesthetics is usually much higher than the more-easily determined timber value."
Outside of his job with K-State, Dr. Barden enjoys vegetable gardening, hunting and fishing.
Education
Ph.D. Forestry, Pennsylvania State University (1989)
M.S. Forest Biology, Virgina Tech. (1987)
B.S. Resource Development, University of Rhode Island (1984)
Publications
Galgamuwa, G.A.P., C.J. Barden, J. Hartman, T. Rhodes, N. Bloedow, R.J. Osorio. 2019. Ecological Restoration of an Oak Woodland within the Forest-Prairie Ecotone of Kansas.https:doi:10.1093/forsci/fxy034. For. Sci. 65(1): 48-58.
C.J. Barden, et al. 2019. Tuttle Creek Watershed Riparian Forest Assessment. KSRE Bulletin. 37 pp.
Gonzales, H.B. et al. 2018. Dust Reduction Efficiency of a Single-Row Vegetative Barrier (Maclura pomifera). Transactions American Society of Agricultural and Biological Engineers ISSN 2151-0032 https://doi.org/10.13031/trans.12879. Vol. 61(6): 1907-1914
Osorio, R.J, C.J. Barden, and I.A. Ciampitti. 2018. GIS approach to estimate windbreak crop yield effects in Kansas-Nebraska. Agroforestry Systems. https://doi.org/10.1007/s10457-018-0270-2.
Gonzales, H.B. et al. 2018. Porosity and Drag Determination of a Single-row Vegetative Barrier (Maclura pomifera). Transactions American Society of Agricultural and Biological Engineers. 61(2): 641-652.
C.J. Barden, C.R. Boyer, B.M. Morales, and L. Fisher. 2017. Promoting red elm (Ulmus rubra Muhl.) germination with gibberellic acid. Brief Communication, In press. Journal of Forestry. 4pp.
Peralta, N.R., Y. Assefa, J. Du, C.J. Barden, and I.A. Ciampitti. 2016. Mid-Season high resolution Satellite Imagery for Forecasting Site-Specific Corn Yield. Remote Sensing 8(848), 16 pp. <www.mdpi.com/journal/remotesensing>
Beck, W.J. , C.J. Barden, , D.C. Maradiaga, and J. Neel. 2015. Delaware River Watershed Riparian Forest Assessment. KSRE Bulletin. In Press. 35 pp.
Beck, W.J., C.J. Barden, D.C. Maradiaga, and J. Neel. 2015. Comparing Riparian Woodlands of Three Northeast Kansas Watersheds. In Assessment of Lake Sedimentation from Three Watersheds in Kansas. KSRE Special Publication. In Review. pp 157-173.
Barden, C.J., G.A. Galgamuwa, W. Upham. 2015. Collaborating with Extension Master Gardeners to Evaluate Tomato Cultivars. In review. Midwest Vegetable Trial Report for 2015. Purdue University. 9pp.
Research
Dr. Barden focuses in two major areas, forestry and water quality. As he states, "I try to use trees to solve environmental problems."
Additionally, he works hand-in-hand with the Kansas Forest Service, (a state agency), on common problems throughout the state. He is also working on two separate research projects: one focusing on prevention of deer damage to newly planted trees and the other on stream bank stabilization.
To prevent damage to the young trees, he has established research and demonstration plantings with several landowners across the state to conduct trials involving translucent tree shelters to protect the young trunks from the deer.
The idea behind stream bank stabilization is to stop soil erosion and to establish deep-rooted plants to protect the banks. This research has been done in conjunction with Haskell Indian Nations University.
A recently funded project to develop improved propagation techniques for plants with special cultural importance to Native Americans has involved Drs. Barden, Boyer, and Griffin. Barden has been working with one of these species, red elm for some time. Read more about it in the The Lawrence Hidden Valley Newsletter which has two articles about his work at the Hidden Valley Camp. The first article is Lawrence Hidden Valley's Red Elm of Interest to K State and Haskell and the second article is From Lonesome Pine to Dogwood Forest.
K-State vegetable trial yields research data and fresh vegetables. The Boys and Girls Club (partners with the Community Agriculture Site (CAS) developed by Reno County Master Gardeners) has been harvesting K-State Research squash, sweet bell peppers, sweet horn peppers and hot peppers. Watch a live harvest in the K-State research garden by the Boys and Girls Club of Hutchinson.
Staff & Students