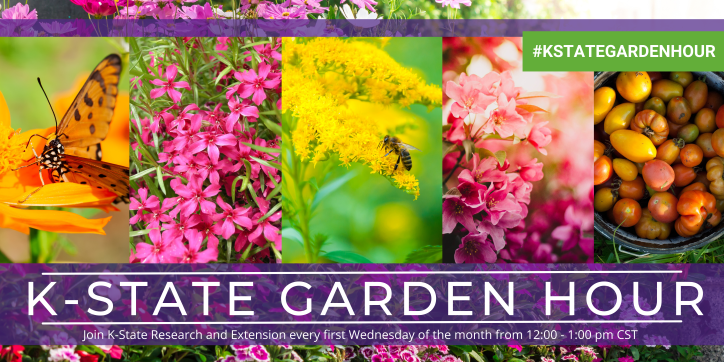 K-State Garden Hour is hosted by K-State Research and Extension horticulture staff across the state of Kansas. We hope you'll join us on the first Wednesday of each month at noon for some horticultural refreshment and training. Sessions are recorded and posted here after each event.
Join us for our webinar series.
Noon - 1pm CST. 45-minute presentation with 15 minutes for questions.
Related Resources
Up Next:
Improving Soil Health in the Landscape and Garden
October 5, 2022
Dr. DeAnn Presley, Professor and Extension Specialist for Environmental Soil Science and Management

Is your landscape and garden soil healthy? Learn how to measure and improve your soil's health in the home landscape and garden. Explore ways to improve your soil, including cover crops and soil amendments. Learn how to build your soil's organic matter, and improve the growing potential of your soil.
Wildlife Damage Prevention and Control in the Lawn and Garden
November 2, 2022
Dr. Drew Ricketts, Extension Wildlife Management Specialist

Have your prized vegetables and beautiful landscapes ever become an all-you-can-eat buffet for local wildlife? Learn how to identify the squirrels, rabbits, deer, gophers, or other wildlife that may be causing problems, and better understand how to prevent their damage. Join Dr. Ricketts, as he shares practical tips to prevent and control common wildlife damage issues.
Accessible Gardening for All
December 7, 2022
Calla Edwards, Butler County Horticulture Extension Agent

Gardening is a passion for so many people, however due to physical challenges, many people find themselves limited or unable to garden. Join us to learn tips, tricks, and ways to make your gardening experience adaptable for everyone.
Previous Webinars
We have offered many Garden Hour sessions on a variety of topics to help Kansas with all their gardening needs.